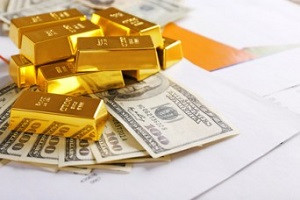 According to an analyst from Bloomberg Intelligence, the current value of gold is quite attractive for buying precious metal. Due to the low volatility of gold prices and the rising risks in the stock market, investors will become increasingly interested in buying a yellow precious metal, which in turn can be a growth driver.
For several months in a row, we have been seeing an inverse relationship between gold prices and stock prices. During the fall of the stock indexes DAX and Dow Jones precious metals showed an increase in its value. According to the analyst, the situation in the stock markets is very fragile. At any time there may be a fall in stock prices. Therefore, gold can expect favorable times. Those investors who increase their investments in precious metals can, over time, at least compensate for the fall in quotations on other assets, and at best make good money on gold growth.
However, in his analysis, the expert did not say anything about the need to own physical gold, and not the securities to it. At any moment they may lose their value, and the physical precious metal will survive any crisis. The history of gold has more than 5,000 years, and it was able to survive all previous crises.
Inflation in the USA
Statistics from the United States shows that inflation in the country is again at a low level: in February it dropped to 1.5%. In this regard, the likelihood of further increases in interest rates of the Fed is reduced. In this case, gold and silver will receive support for further growth.
Yesterday, March 12, the price of gold was able to overcome the psychologically important level of $ 1,300 per ounce. As you know, high inflation is the driver of the increase in prices for precious metals, but in the current situation it turned out the opposite. The fact is that with low inflation, the Fed has practically no arguments for further raising its interest rates. This means that the US dollar will be under pressure, and it just has an inverse correlation with gold. If the American currency weakens, gold will show steady growth.
Some analysts read that due to weak market data in the US, Fed interest rates may even be reduced this year to stimulate the economy again. The first bell was data on unemployment for February 2019. In addition, one of the Fed members also hinted at a possible reduction in rates.