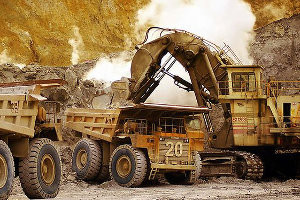 According to the analytical company S & P Global Market Intelligence, gold production in 2018 continued to grow for the tenth consecutive year and reached 107.3 million ounces. Analysts observed that according to the results of the current 2019, a new record of 109.6 million ounces can be set. According to analyst Christopher Galbright, the increase in gold production increased in 2018 by only + 1% compared with 2017-this was the minimum increase in the last 10 years. But compared to 2008, the increase in yellow precious metal production was + 40%.
"We believe that the forecast growth of +2.3 million ounces this year may be the largest in the last three years. This fact refutes the assumption of some analysts who have begun to assert that the world will reach the peak of gold production. At the same time, half the growth gold mining will give just new deposits that have begun or still will begin to work this year. "
Analyst Christopher Galbraith believes that, based on existing gold mining projects in the world, one can be confident in the stable production of yellow precious metal until 2022. The fact is that new deposits that will be launched in the next five years will be able to consistently bring 4 , 3 million ounces of gold annually until 2024. Another additional 11.7 million ounces can be provided by promising projects that are now at the implementation stage and have a high chance of being launched in the near future. However, as early as 2021, a decline in the production of gold from old, depleting deposits could begin. This process can outrun production growth. Only from 2022 one can expect a decline in gold production by 3 million ounces, and from 2024 a decline may already amount to 5 million ounces of gold.