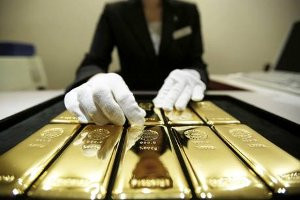 According to the data of the Business Recorder portal, in February 2019, net gold imports to mainland China through Hong Kong decreased by 13.6% compared with January. Economic problems in the country have a negative impact on the desire of consumers to buy gold.
The Statistics Bureau of Hong Kong published data, from which it follows that in February, 33.15 tons of yellow precious metal was sent to mainland China, although in January this figure was 38.37 tons.
Experts attribute the decline in gold supplies to a slowdown in the Chinese economy. This, in turn, leads to a decrease in sales, as the population of the country takes a restrained position in relation to purchases of precious metals amid uncertainty. The economic authorities of China lowered the forecast for economic growth in 2019 from 6.5% to 6%, although last year the figure was 6.6%. The fact is that in recent years a large amount of unsold precious metal has accumulated on the Chinese gold market. Therefore, dealers are not in a hurry to make new purchases in order to sell off existing stockpiles.
China does not publish official gold trading data, so analysts use data from Hong Kong to get at least some idea of ​​the supply of gold to China. But this is still not enough to get a complete picture of the import of precious metals, since it is also carried out through Shanghai and Beijing, and the data from there are not published.
A similar situation is developing in India, where in February of this year a decrease in imports was also recorded. The decisions of the financial authorities of India, which have been trying to slow down the supply of yellow precious metal from other countries for several years, have a great negative effect on the supply of gold to the country. One of these restrictions was the abolition of the duty-free import of gold from South Korea, with which India had an agreement on duty-free trade. This is the loophole used by some importers. Now they are forced to pay customs duty of 10%.